WE MADE HISTORY 1996
Special Website Coming Soon for 25th Anniversary 2021
OTHER GREAT BOOKS:
CAROUSEL of Book Covers. Click below to visit Café Okay, my online bookshop. Refresh browser: see 50+ titles. Enjoy a good read.

Teenage Author
Teenage Poet
Teenage Novelist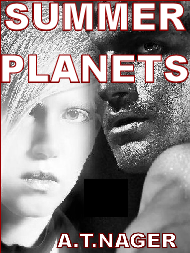 Valley of Seven Castles
A Luxembourg Thriller by John T. Cullen
Classic Structure & Fast Euro-Thriller + Alfred Hitchcock's Final Secret
Bourne Identity Meets The 39 Steps: This is a fast-moving thriller reminiscent of the 2002 film The Bourne Identity starring Matt Damon and Franka Potente, which was based on Robert Ludlum's 1980 spy novel. While the movie took us from the Mediterranean coast to Paris,my novel Valley of Seven Castles takes us from Shanghai and Paris to Luxembourg on a run-for-your-life thriller ride.
Political Thriller Subtext. Along the way, there is also a bit of political thriller buried in the fertile soil of this story. It takes place in a near future world in which democracy is in danger of falling terminal victim to tyranny from rising Third-World powers, most notably China. I'm a big China fan and wish the great people of China well, while at the same time I hope their middle class is able to overcome the primitive dictatorship still driving their car. The hero, a young U.S. Army deserter named Rick Buchan, is on the run after being falsely accused of a war crime—by his evil lieutenant, who actually betrayed his unit. The heroine is beautiful young Hannah Smith, who sold herself into virtual slavery (a lucrative fashion for a while, typically for a five year term) to pay for her dying mother's medical bills in a mercenary, heartless corporate U.S.A. Instead, she winds up as a sexual slave at a Shanghai mansion.
On the spur of the moment, Hannah manages to steal a top military-industrial secret from her owner, billionaire Wan while his private jet is parked at a Paris airport. Now she's on the run for her life, pursued by Wan's agents. She latches up with Rick Buchan, and they flee together to an important political conference at a castle in Luxembourg's Valley of Seven Castles.
But wait, there's a lot more! One of the classic and archetypal thriller novels of the 20th Century was British author John Buchan's 1915 thriller The Thirty-Nine Steps. In 1935, Alfred Hitchcock made a movie of that titled The 39 Steps. I used the amazing plot skeleton of Buchan's novel to construct the plot of Valley of Seven Castles. Buchan's story is not only a classic (enduring masterpiece) but also archetypal—meaning it demands to be remade time and again, and that's what has happened with both the Buchan and Ludlum novels. Read Free or Buy at Galley City.
Alfred Hitchcock's Final Secret Revealed. In the Appendices of the novel (read free or buy at Galley City) I have included my amazing relevation: a discovery I made about Alfred Hitchcock while I was writing this novel. You see, Alfred Hitchcock not only adapted John Buchan's 1915 novel for a famous 1935 Hitchcock movie. Alfred Hitchcock *also* used the same plot line I did, borrowed from Buchan, to create the most famous of all Hitchcock thriller movies. Read the stuff at Galley City, enjoy Valley of Seven Castles, and be astounded by my discovery. I call it *Alfred Hitchcock's Final Secret*.